Tabularium


16.10.2014
Constantly looking for to allocate values their right place, this time my main concern has been to merit one of the most underrated poets of Austria a closer look. Even unbearable it seems to us, the way our time and society make modern bungling their false gods, whilst old masters are fairly mentioned on advantageous occasion only: thence, it is high time to pay consideration to the works of
Ferdinand von Saar
and once again to pay attention to the very credit of this outstanding poet of our country!
FERDINAND VON SAAR - DER HEIMLICHE NATIONALDICHTER ÖSTERREICHS?
---
11.08.2014
13.07.2014
Inspired by a recent itinerary trip, I now may introduce my latest ballad "Der Jungfrauenturm zu Visborg" to the well-esteemed reader. A highly difficult moment of the opus represents its trochaic conception, which to surmount I specifically regarded a challenge this time. An extraordinary consideration doubtlessly merited the very circumstance, wherefore it is, indeed, difficult to compose a German poem in trochees, hence the majority of our lyric poetry is in iambs; according to this, I had to cope, besides the habitual work, with the double hassle of the trochaic verse, which notably consists of the falling meter at the beginning of a verse-line; to surmount this obstacle was my primal order by now, and well I may trust in the reader's fair equity having resolved this kind of job to mutual advantage!

DER JUNGFRAUENTURM ZU VISBORG >>>
---
28.04.2014
On the occasion of a promenade across those sceneries where I spent my childhood I got inspired to the subsequent poem called
Various reflexions, which will be given a more detailed comment in the preface, have disposed me to this attempt actually most unpoetical to compose a series of epistles and essays in order to pick up subjects of common interest and to treat them out of the poets' perspective.
To illuminate new aspects and details, to offer incitations and possibly to encourage the one or the other in their opinions – but also to represent a distinctly defined position in terms of views of contradiction, these are the prime intentions of this attempt. May it contribute to animate our society to self-criticism and personal responsibility and therefore to render this world a little better world!

Epistles and essays to subjects of common interest

PROLOGUS >>>
I. VOM WÄHLEN ODER DIE GROSSE WAHL-LÜGE >>>
II. VON DER RECHTEN BILDUNG >>>
---

12.12.2013
!!! NEW RELEASE – HISTORICAL NOVEL "DIE FALKENBURG" !!!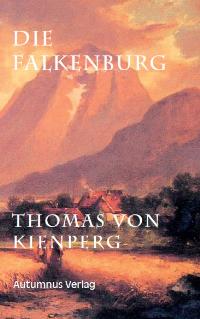 Good things come to those who wait, we could say in a very appropriate manner in consideration of my long silence in this forum. And as a matter of fact, I am now back with some kind of a blast – my latest historical novel "Die Falkenburg" has been released by the publisher Autumnus-Verlag in Berlin.
"Die Falkenburg" – this is the affecting story of the young Baroness Béatrice of Teuffenbach, who needs to – in absence of her Lord, the Count of Welsersheimb, who as an officer stands by the emperors' guards – suffer all kinds of hassle and in the storms of those very eventful times walks through a process of maturity. On her spiritual search she finally reaches the crossroad of her life …
"Die Falkenburg" is a story full of wonderful romance and tells us from the eternal mysteries of love, battle and death! Let us abandon to yonder engrossed world full of bugle chimes, aurora and whispering groves, which has become so utterly strange and incomprehensible to our presence and where the changeful fortunes of the people then have fulfilled, as ideas such as honour, virtue or courtesy were still alive amongst the humans.
"Die Falkenburg" is a story written in the language of poetry, which is abducting the reader into the enchanting realms of romanticism and fills him with the very certitude that we have to discover a superior world within ourselves to which, if more or less consciously, everybody feels attracted to.
"Die Falkenburg" is last but not least – and such literally indeed – merely an original book, an alternative to the trends of literature in the present, a declaration of love to poetry and – above all – a successful manifestation of the self-proclaimed "dernier chevalier véritable du romantisme"!

READING >>>
MORE INFORMATION ON THE BOOK >>>

---
07.06.2012
Behold, the poetic philosopher and art historian Siegfried von Aue bestows us a poetical treasure by his poem


DER ENGEL (THE ANGEL) >>>
---
Herewith I am back with some kind of poetic strike, as private and professional reasons but also an experimental project have unfortunately kept me well away from poetry this year so far. All those, who may have trusted the Hippocrene might not effervesce any further for the
dernier chevalier
, at this point shall be seriously told: those declared dead live longer! And to the very right time, I suppose, so to say with the first days of spring I would like to present my recently completed verse-poetry in distiches called "promenade on a spring day" to the well-esteemed reader. Notwithstanding the distich may customary in particular be found in the epigram and elegy, and initially only the hexameter was intended for my composition, I finally decided to use the less uniform and more melodious distich. I hope indeed to have taken the right choice and would like, wholeheartedly, to wish happy and blessed Easter to all readers!
Promenade an einem Frühlingstage >>>
... and yet another most decent poem named
Der Lindenbaum im Dorfe >>>
---
Of the nature of German poetry by Thomas von Kienperg
---

07.12.2011
!!! NEW RELEASE – BALLADEN UND GEDICHTE AUSGEWÄHLTE NOVELLEN !!!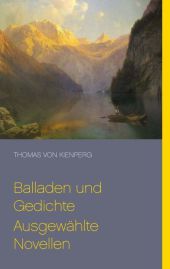 Right to the end of the year I proudly herald the release of my new book to the well-inclined reader. This time, the book comprehends two volumes, the first containing a complete issue of my ballads and poems. The second volume represents a selective number of novels.
The dark and gloomy novel "Der Werwolf vom Riesengebirge" touches the matter of the werewolf-belief of past centuries and leads us into the secluded forests of the giant mountains.
The story "Denkwürdigkeiten aus dem abenteuerlichen Leben des hochgeschätzten Wunderdoktors Höllerhans" is some kind of hilarious and funny tale and treats the subject of the charlatan and quackdoctor-mischief of previous days in a very humorous way.
"Die Standuhr und der Tod" represents a specific shiver-novel and follows the tradition of such as Edgar Allan Poe.
The artist's novel "Die Pforten des Himmels" treats the subject of the underrated genius and tells about the changeful occurrences of a young painter.
"Die Blüntaumühle" is some kind of historic novel based on reality and characterizes the multiple miseries of the common people during the French revolution.
The book – and this was my main concern – is a well-composed manifestation in classic-romantic tradition and so to speak a declaration of love to the poetry of our forefathers; to retain this very heritage has always been my supreme goal! Thence, the new epithet of my pseudonym is: le dernier chevalier véritable du romantisme – the last, true knight of romanticism!



15.08.2011
The "year of ballads" shall come forward! No hollow paroles be here at its place, nay! but testimony, Mylord, yes! testimony I would like to lay against the collective failure and bungling of our modern writers, who are unable to write one single respectable verse. In our days, the lyric poetry in particular lays down in a way never seen before, and consequently, to far a greater extent all my efforts now focus upon to leave, along with god's help, our posterity something respectable in this most poetical of all literary species even. Forthcoming generations, I call! have got a right to be given at hand this very kind of arts, which conceives its credence by the turn towards the true, the good and the graceful, for legacy, so they shall be able to procreate this tradition unto a very far future one day – the same to us, who overtook this very legacy from our ancient forefathers! And how, ask I, could this all be better done but by comprehending arts in a reasonable manner? And how better, but by striving for the highest goal of arts with the uttermost strength by oneself? I, for my part, as a poet absolutely stick to these principles – as the one and only of my age and profession, as far as it seems, and how much I would like to see these my paroles belied – however by no words, but by deeds!
And so at last we have arrived at what is of real value only: the deed! And such as a deed I trust to lay down, my dearest reader, who shalt agree with my ideas, in the following, for I confideth my latest ballad unto thee! May the Lords grace accept it to his majesty and glory and fill thy heart with the kindest fairness! Soli deo gloria!
---

04.06.2011

14.05.2011
Together with the transcription of a tale as keystone for a volume of novels in progress (and almost completed), the past month also spawned forth that ballad "Richard Lionheart and the kings' faithful minstrel", which actually came unto existence on the occasion of a reminiscence of the Wachau region. As part of my well-heralded "year of ballads" it may very probably be read in the planned poem-anthology of this year even.
Richard Löwenherz und des Königs getreuer Spielmann >>>
---

04.04.2011
With the greatest pleasure I am proud to herald the lucky rearrangement of my website. For certain personal circumstances have changed, some parameters in regard of form and contents did not seem up to date in the end, so that now a few amendments are the consequence. Thus, for instance, the very dark and unshaped site-cover got deleted; now access to the homepage is effected automatically. Regarding the graphic exposure, the picture of Caspar David Friedrich – "Abbey in the oakforest" got replaced by a picture of Joseph Mayburger – "Salzach valley with view at Roßfeld and Hoher Göll". Except for the mere aesthetic point of view, this very measure shall also express the poets' deep patriotism. Likewise, the insignium of a former poetophilosophical union got replaced by the image of a poets' bust crowned with a laurel wreath, which may be comprehended as an allegory on general poetry. Moreover, the navigation point to the subject on the aforementioned poetophilosophical union got removed. I hope, by these arrangements, having observed the outer forms of poetry as much as they are supposed to correspond with its contents, and therefore to create the basis to that very interior identification, without which no kind of real poetry can be imagined.
---

01.04.2011
The marvellous initial words of psalm 23 (psalm of king David) served as title for my latest edification poem "The Lord is my shepherd". The key part of the poem forms Ps 23,4 and draws its inspiration from the pastoral figures of the Gospel according to John (John 10).
---

23.03.2011
My dearest reader,
for the very first time a full presentation of the collective first part of my German translation scheduled for publication (fragments 1-414, including annotations) of the "pensées" of the French philosopher Blaise Pascal as online version is now realized. The fragments 415-813 of the second part will be released subject to individual request only. For further details please feel free to check here >>>.
---

04.03.2011
A pure soul fraught with god is like a beautiful spring morning that cheers for its creator! In my latest poem I attempted to versify this very truth.
30.01.2011
Owing to a painting of our very admirable Friedrich Gauermann – "Scheibenschießen im Passeyertal" – I got inspired to the folk-ballad "Freiheitslied für Andreas Hofer/ liberty chant for Andreas Hofer". I honestly believe it is the poets moral obligation to present the deeds of our valiant forefathers effectively in a romantic manner, as there shall become transparent that noble idea which eventually spawned the great heroic deeds in the course of history. In order to arouse those ideas of high and noble ardour in the human bosom, a scientific verity of history is, by all means, unsuitable. May this poem contribute to honour and adhere to the memory of this great contender of human liberty!
---
21.01.2011
Soon another year is going to finish its always renewing, perennially rebirthing circle. As a, so to say keystone I ultimately ventured to execute a long nourished plan and now composed my first "Christmas poem"! Surely I confess suspecting it might, in its manner, just be imperfectly arranged, but, however, I trust having well matched the right tone – indeed, I may trust having struck a chord in puerile and confidential minds filled with faithful devotion to the birth of our redeemer. Did I ever succeed in executing this intention luckily, thank God! I would like to wish peace to all people and a blessed and gracious Christmas time!
26.11.2010
The year of ballads shall be heralded! Being well busy in realising a volume of my complete poems for next year, behold a sonnet recently composed for example. I sincerely trust having herewith contributed to get our most shrinking German muse on her feet again. Below, the well-disposed reader may find some additional links on poems recently composed. The romantics shall live!
13.11.2010
---
08.09.2010
"Never", I recently said to a friend, "never ever I will bow to the modern spirit of times with all its literary mainstream and moods, against my creed and just for the sake of public acceptance and success; I rather will always do the way I can pass in the eyes of god as well as in the eyes of myself!"
So to speak
ad statuendum exemplum
I composed a trilogy in poems (metrical mode: iambs to three and four metrical feet) according to romantic example; now it's the readers turn to judge, to which extent lyrical poetry in classical tradition still represents a phenomenon which may be supposed timeless.
Das Schloß am Rhein >>>
Dichterehre >>>
Waldesnacht >>>
This was the initial trick ...
---

01.05.2010
!!! NEW RELEASE – DIE SCHENKE AM HEILIGENSTEIN !!!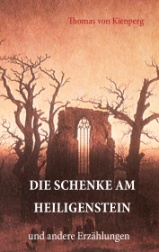 With serious pleasure I herewith dare to lay my latest creation unto the hands of the well-disposed reader: "Die Schenke am Heiligenstein" entirely follows the romantic tradition of writing and reintroduces the concept of the framework-novel in modern literature. Moreover, this volume represents another novel – "Am Scheideweg", a narration inspired by the means of naturalism/ realism – as well as the story "Der stürzende Berg", a piece representing a fairy-tale-like character. Now, my principal ambition with this book is successfully to tie up to the tradition of classical writing, in particular to that of the romantic school, notwithstanding the tendencies of contemporary modern literature. For all those, who are into the likes of poetry such as E.T.A. Hoffmann, Eichendorff, Tieck, Novalis, Brentano, Arnim, Fouqué and other poets of similarity, who are yet too numerous to mention, my hopes are, indeed, to have created a so to speak "neoromantic" book which is able also to meet the approval of our days' readers. The reader of disposition will find some excerpts on the represented works right
here
.

11.04.2010
My translation of Pascals "pensées" – which I have been labouring for a very long time – just terminated, the publication – already announced – has been cancelled by the German editor "Wissenschaftliche Buchgesellschaft" (WBG) literally in the last minute. For reasons they gave ...
CONTINUE >>>
---
15.03.2010
What extent of idealism is required to live the life of a so-called "poor poet"? Why does our epoch not show any kind of inclination for the opera of modern poets of classical orientation, and why, apparently, does fortune rather seem to offer disadvantage to people with visions? Why does utter mediocrity correspond to the bigger part of our literature, and why, sometimes, are even well-talented writers unable to find an editor? In order to find some further thoughts and reflections upon these questions and other topics of similar relevance, I somewhat tried to create the image of a poet in my essay
Herzensergießungen eines armen Poeten
.
CONTINUE >>>
---
01.12.2009
Some very individual reflections on the subject of nature-protection you find
here
.
---

09.08.2009
"The devil finds work for idle hands! " What in general has proved to be an exhortation for common people, might be a source of inspiration to the poet. Through the act of contemplation the external turns into the internal, and the view of mind eventually forms the idea, out of which the opus shall rise. As a permanent intellectual occupation terminates in some kind of weariness and weakness of mind, I decided to retreat to Patagonia for regeneration during the next few weeks in order to refresh and recover my mind in the isolation of this secluded country. However, two novellas are prepared in regard to a yet-planned volume of novellas. Furthermore, a quite extensive translation-project required my awareness to a very high extent, a fact that unfortunately prevented me from sufficient recreation so far; howsoever, I trust I will be able to provide the reader of interest with more detailed information on the outstanding projects after my return [which the Lord may give]. Entirely convinced, the so-called "idleness" represents a highly significant instrument for reflexion and self-reflexion to the reflecting human, I would like to wish to all people a pleasant summer and the blessings of god.
---

27.04.2009

The so-called "new romantics", a group of young German artists, have been joining for link-partnership. We get an impression of their works at their private page
www.neue-romantiker.de
. Furthermore, one of their fellows, Joachim Burghardt, has recently brought forth his first publication and established as a writer of alpine literature. For more information please see
www.bergfotos.de
or contact the editor (see pictogram).
---
06.03.2009
In order to give a sufficient definition of lyric poetry, which is no longer subject to individual interpretation by will, I composed a brief
essay
which postulates the submission of lyric poetry under the regulation of poetic laws. Thus, lyric poetry shall no longer be an object of speculation submitted to the change of times, for the principles of the lyric genre depend less upon the interpretation of lyric in the change of times, but rather on the immutable structures, independent of any kind of accidental impact.
---

07.02.2009
"It is finished! " (John 19, 30) After some troublesome moments, which to overcome I have kindly to devote to the diligent administrators of this website in particular, now this new corner – "News" – is born, which is supposed to provide the disposed reader with information on all my activities in literature. The prime goal of this column is to introduce my latest poetry, but also to give some additional hints besides creative life as such on literary projects, publications and much more. Less recent articles will be transferred to the "Tabularium" corner, where they may be recalled at any time. I sincerely trust that this column may contribute to establish traditional German literature in the present. May Gods blessings be with all of you who seriously strive with dignity for a goal in life!